The history and bookmark features within the link browser make it easy to quickly access previous or frequently used link sources.
Link Browser History
After a link has been pasted into the link browser it will be added to your link browser history tab. Selecting a link from your history tab will populate that link into the link browser URL field. This will allow you to quickly reenter a link in instances of an upload failure.
Link Browser Bookmarks
Web links and FTP information that has been entered into the link browser can be bookmarked for future use. Bookmarks can also be shared with other users in your account. This is beneficial as it gives you quick access to those sources you use most to upload spots into Spotloader.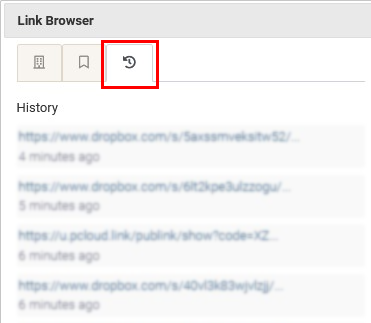 Creating a Bookmark

After pasting a web link or adding FTP information into the link browser an option to "Bookmark this link" will appear below the URL field. Clicking the "Bookmark this link" button will populate a new bookmark that you are able to rename and, if you'd like, share with other users in your account. Once created, bookmarks can be accessed from the bookmark tab in the link browser.