Within the Media Details window you can preview your media files. In addition, this is how to access information about your uploaded spots and take various actions with your files by moving through the provided tabs.
The Media Details window can be access from the Files page and clicking on one of the files listed.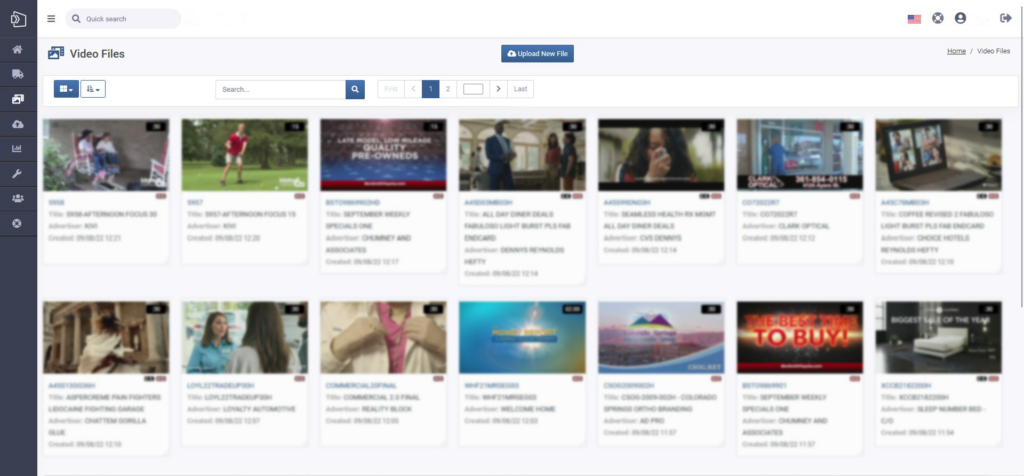 ---
Options Within Media Details

File Details
In this section you can access spot metadata such as: video format, fps, bitrate, audio type, upload date, and more.

Closed Captions
If the spot was uploaded with captions, those can be viewed here.

Thumbnails
Still images of the spot can be viewed within this tab. When clicking on a thumbnail it will expand the image and allow you to save it locally. These can be used to send or confirm spot details such as disclaimers, phone numbers, titles, etc.

Share
The Share function will allow you to send a low resolution preview of this spot via email with a message of your choosing.

Send
From the Send tab you can deliver a file to more stations or destinations that weren't selected during the initial upload. More information about this function can be found in our article: Sending Files to Additional Destinations

Cancel Delivery
If a delivered spot needs to be purged from one or more of the destinations it was sent, this can be requested from the Cancel Delivery tab. All cancellations will require a brief description of the cancellation reason and an additional confirmation to cancel the delivery. Both the upload account and station receiver account will receive a cancellation email with the file information and reason for the cancellation. Files will still remain in Spotloader when deliveries are cancelled and can be re-delivered at another time if needed.

Order Services
If captioning is needed for your file and was not ordered during upload you can order them here.

Delete Media
If a spot is uploaded to Spotloader in error or once a spot has reached its end of use and should not be aired again it can be deleted from Spotloader. Once a file is deleted, cancellation emails will be sent to all destinations that the spot was delivered to so it can be purged. Deleted files can't be delivered to stations and will no longer be available in Spotloader. After the deletion, the original file's Media ID can be reused in Spotloader.